A Holiday To Remember…
Now I'm sure a lot of you are aware that recently I travelled to the Dominican Republic for my friend's wedding (I've been banging on about it for at least 6 months in the run up to it). Anyway, here at Turner & Pennell we have noticed a huge upturn in destination weddings so I thought I'd blog about our trip and give you some top tips if you are thinking about tying the knot abroad.
When I received the invite for the wedding I instantly knew I couldn't miss it. A wedding day is such a special occasion, but the fact that my friend had invited me to attend her wedding in the Dominican I felt extremely privileged. Gemma and Simon were under no illusion that they simply could not invite everyone to their day and that not everyone could commit to attending it either. But they wanted their wedding day to reflect them. Gemma and Simon love their holidays and exploring new places and it was perfect for them.
It was a sunny Sunday morning in May when my family and myself set off to Gatwick to meet with the rest of the wedding party ready to jet off to Punta Cana (25 of us in total). Getting to this point had bee a challenge for Gemma and Simon as they tried to make sure we all had the perfect trip; they had booked all the flights, transfers, airport lounges and of course the hotel. Trust me, coordinating that many people and getting all the passport information, visas etc is not that easy. We were all extremely excited and actually the 9-hour plane journey flew by (pardon the pun).
Eventually, we arrived at the hotel reception and were greeted by the staff and two flamingos! Each family were shown to their rooms and given a tour of the hotel. Conveniently, the hotel had situated us all in one area. This was so handy on the wedding day when we were all getting ready!
We had 4 days until the wedding and Gemma and Simon had to decide where exactly they wanted to get married and have the reception. The wedding planner at the hotel was amazing and took them on a golf buggy around the grounds, ensuring they had a back up plan if it was to rain. Gemma decided on the beach front pergola and the gardens for the evening reception.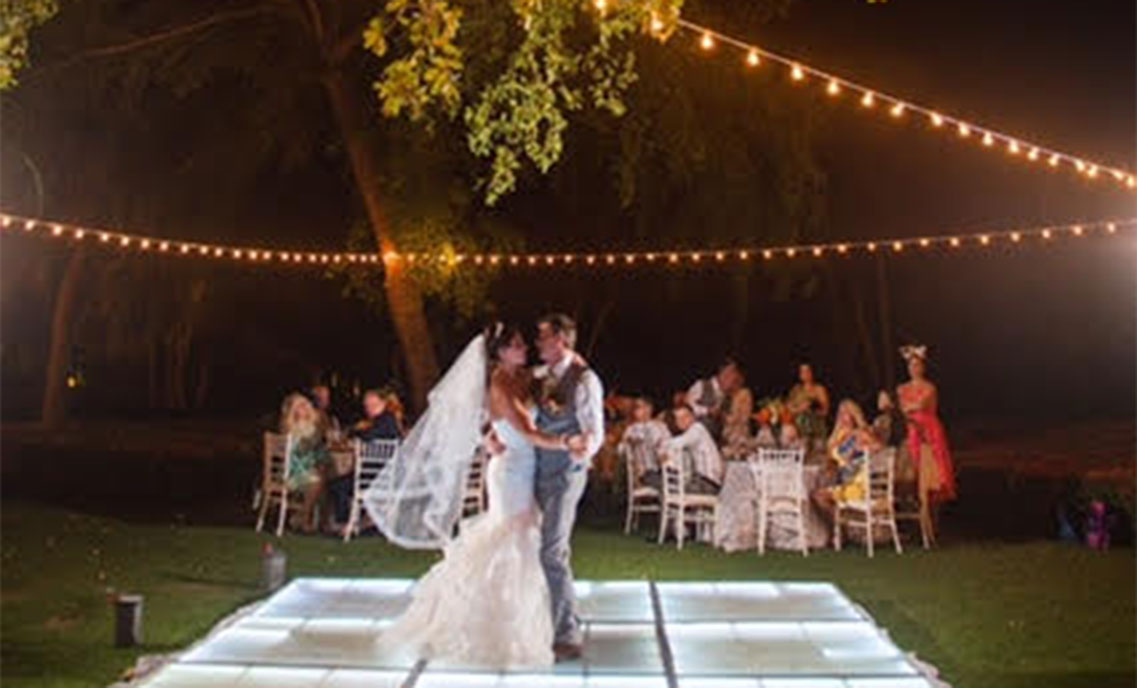 On the second night we had the hen and stag parties where the hotel booked us separate restaurants for the men and ladies. Obviously, I don't know what happened on the stag, but everything was thought of for the Hen night by Gemma and her bridesmaids. Bride tribe tattoos and face glitter for all!

The day of the wedding arrived and it was all very calm. Gemma and her bridesmaids went off to the spa for hair and makeup and I went to her mum's room to get the dress ready, Romain gown by La Sposa. We got Gemma ready at the last possible moment and I then took myself off to the ceremony area.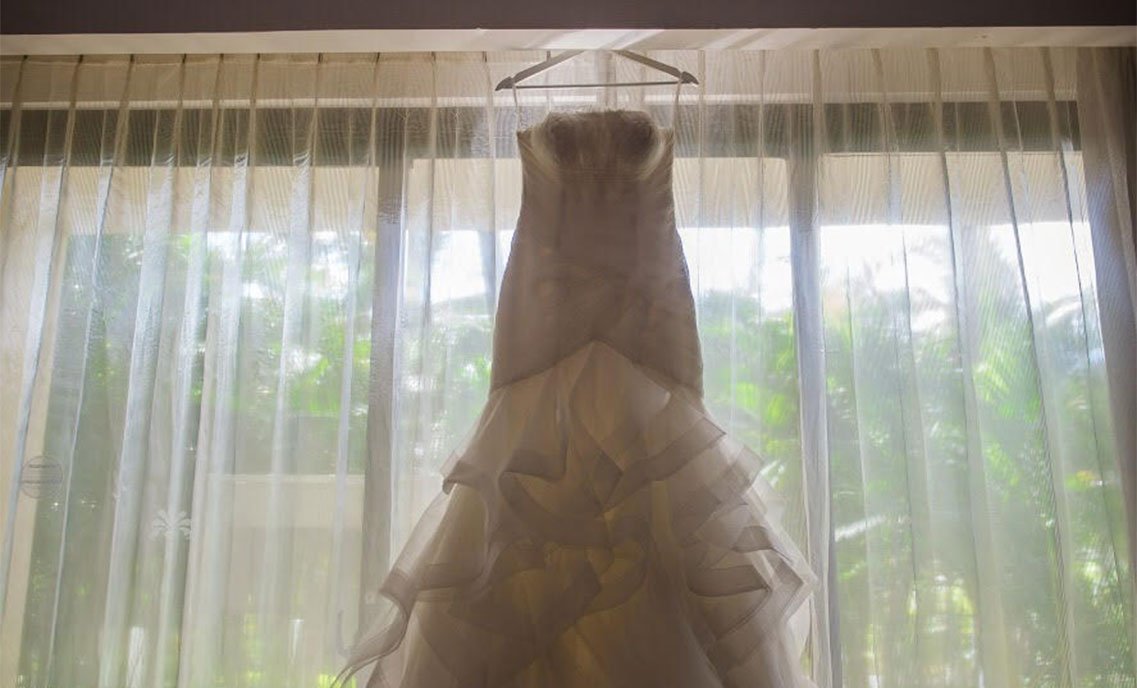 Again, Gemma had thought of everything. There were fans, sunglasses and confetti for everyone, all personalised with the wedding date. We had to wait a little while for the registrar to arrive, but then all of a sudden the music started and Gemma and her Dad walked down the aisle. All I can say is that there wasn't a dry eye and I just loved listening to the oooo's and arrrr's when the guests when they saw Gemma in her dress. The ceremony was beautiful, it was spoken in Spanish and translated by the wedding planner. The whole thing went off without a hitch. The evening reception was romantically lit under fairy lights and a star lit dance floor. Gemma and Simon had bought with them a sound system and played songs through their iPad. As always at a wedding, the day went too quickly and none of us wanted it to end, but luckily for us we had the rest of the holiday to enjoy.
When we were all back home Gemma and Simon celebrated their wedding with lots more friends and family at the Rayleigh Club where they had a top band to entertain all their guests.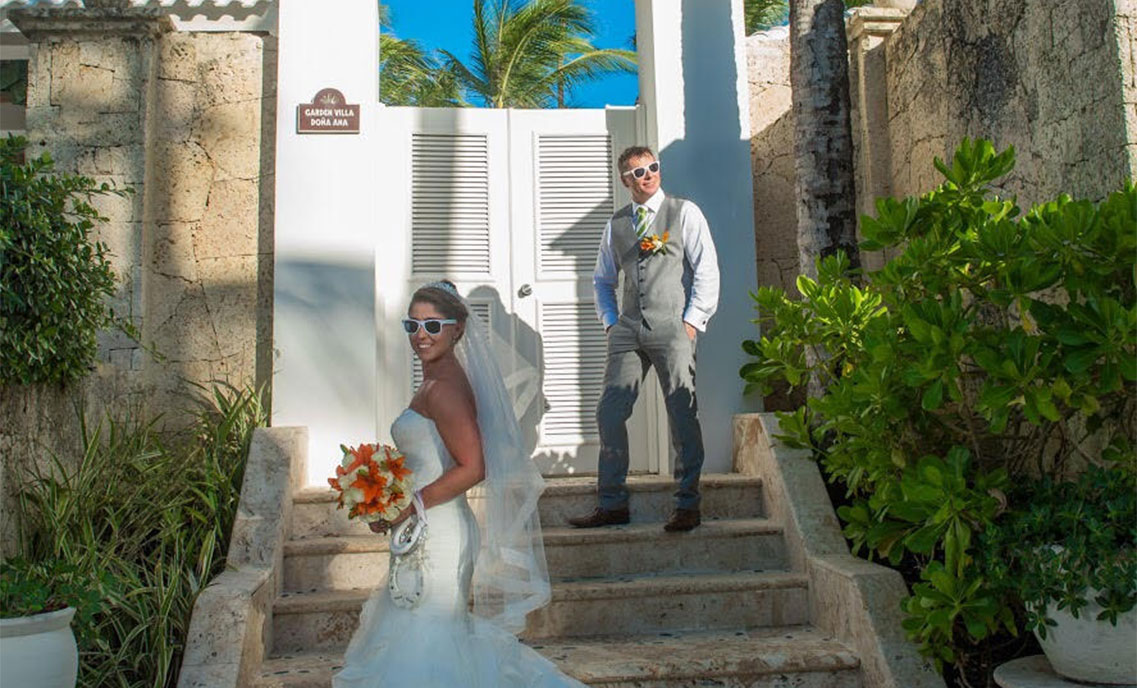 Here's some questions I asked Gemma about the whole experience…
How did you select a country?
We love our Caribbean holidays and had frequented Mexico over the last 4 yrs. But for something as special as our wedding, we wanted a break from the norm and to do something completely different and unique. So I started looking at other Caribbean holiday destinations with luxury 5* all-inclusive hotels. I also wanted somewhere you could fly directly from the UK. I toyed with a number of destinations including; Dominican Republic, The Bahamas, Turks and Caicos and Jamaica. via the web, social media and the usual high street travel agents.
I then went to the Excel Wedding Fayre and met Tina Sewell at My Wedding Away – a company that specialised in Destination Wedding and also in particular the Caribbean. Tina gave great insight into what was involved in a Destination Wedding and after a short consultation she offered to get some ideas and quotes out to me illustrating various options.
After much deliberation and endless reading of trip advisor reviews etc. I feel in love with the Paradisus Punta Cana Resort in the Dominican Republic. This offered everything we were looking for (5* luxury, an all-inclusive resort, lush grounds, an idyllic beach, lots of restaurants and bars, family friendly, an adults only section, daytime activities and also reasonable wedding packages); it was also within our budget.
What legalities were involved?
In order to have a legal ceremony we did need to pay an additional fee for the Justice of the Peace (local Official Registrar) to marry us; similar as you would expect in the UK.
There were a series of legal documents that we needed including; Birth Certificates, Passports and Statutory Declarations (Affidavit). All of these needed to be apostilled by the Foreign and Commonwealth Office in the UK in order for them to be recognised as an official legal documents abroad. Once authenticated, these documents then needed to go to the Dominican Embassy in London for translation into Spanish. Timing was key with this as the Statutory Declarations are only valid for a 3 month period. Fees did apply for the legalisation process however these were all clearly highlighted by each Office at the outset, so there were no nasty surprises. Whilst the documentation was all done by post, both the Foreign and Commonwealth Office and Dominican Embassy were easily contactable by phone for a progress update and everything was dealt with pretty quickly.


From everyone here at Turner & Pennell we want to say a huge congratulations to the new Mr & Mrs Porter!


See Gemma's top 8 tips for tying the knot abroad here!

Tags