Top Tips For Tying The Knot Abroad!
Here at Turner & Pennell we have noticed a huge increase in the amount of beautiful bride-to-be's who are planning on having their dream destination wedding!
One of our lovely brides and dear friend, Gemma, has recently returned from her wedding in the Dominican Republic and has kindly shared with us her top 8 tips for tying the knot abroad:


Talcum Powder! Prevent heat rashes and sweating as much as possible!


Pick reception and ceremony locations that are naturally pretty (this saves money and luggage space on unnecessary decorations that just can't match natural beauty)


Book a ceremony time that works for the temperature at your destination. You want you and yours guests to be as comfortable as possible.


Research, Research, Research! Trip Advisor etc. Whilst you have to take a lot of comments with a pinch of salt, you can get your own feel on what the hotel is like from real peoples perspectives and see actual photos rather than what a travel agent or brochure tells you.


Don't get too stressed if the wedding planner or vendor at the destination doesn't communicate with you instantly pre arrival. They do inevitably deal with a lot of weddings, nevertheless once you are their priority (in my experience this was 3 months prior) they make you feel like the princess you deserve to be.


Set up a watsapp group for all the guests on the holiday. This was the best way to communicate with everyone about plans for the day, restaurant bookings etc.


Don't forget about tan lines ladies! If you have a strapless dress make sure you are wearing strapless tops before the big day.


Get your wedding dress shop to pack your dress. Mine would not fit in hand luggage and the airline (British Airways) would not accept it in a dress bag. Sarah packed mine in a hard shell case and I can't tell you what a relief it was when it appeared on the luggage carousel at Punta Cana. The dress came out of the bag on the first day and it was perfect. No creases what so ever.

From everyone here at Turner & Pennell we want to say a huge congratulations to the new Mr & Mrs Porter!

Here's just one of the many stunning pictures from the wedding, we absolutely love Gemma in our Romain gown by La Sposa!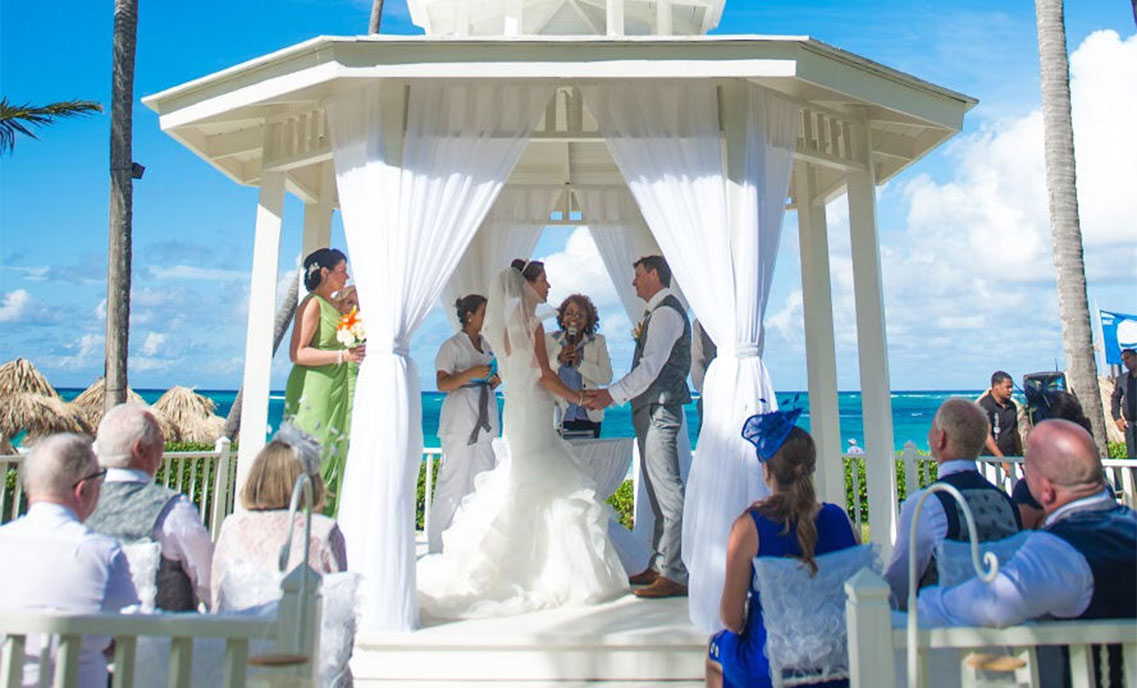 Tags